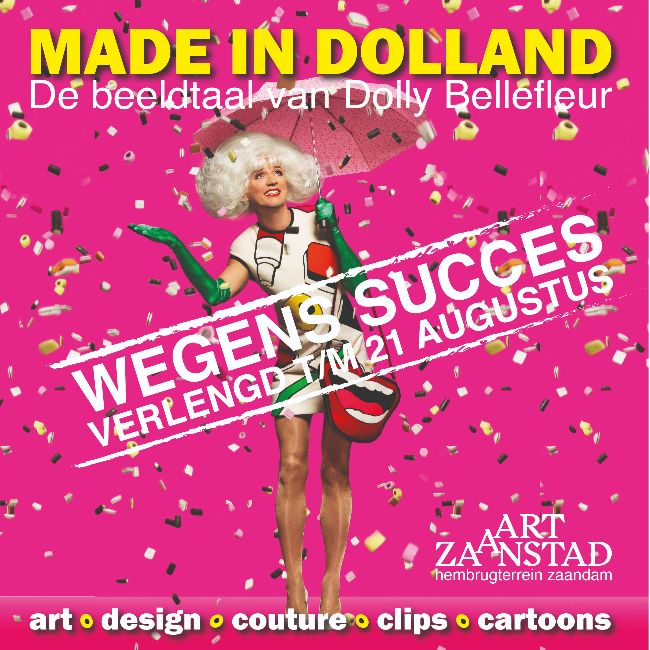 Because of great succes the 'Made in Dolland- de beeldtaal van Dolly Bellefleur' exhibition at Artzaanstad has been prolongued until august 21st!
A vast group of artists (photgraphers, fashion designers, visual artists, graphic designers) celebrating 'beauty with brains' and icon Dolly Bellefleur: Erwin Olaf, Tycho Boeker (Prince Charming), Elisa Pesapane, Joost Swarte, Michael Barnaart, Piet Paris, Thé Tjong-Khing, Sacha Wendt and many more.
Artzaanstad: Grote Hulzen 11 (Hembrugterrein), 1505 RH Zaandam
Openingstijden: Dinsdag tot zaterdag van 10.00 tot 17.00 uur
Elke eerste zondag van de maand van 12.00 tot 17.30 uur
Vanaf 1989 staat Dolly Bellefleur (alter ego van cabaretier en tekstdichter Ruud Douma) op de planken maar ook op de barricades. Zowel in taal, in (lied)teksten, columns en gedichten maar ook in beeld, in bijvoorbeeld cartoons, foto's, muziekclips en kostuums, toont Dolly zich een ware activist. In Made in Dolland ligt de nadruk op Dolly's eigenzinnige beeldtaal. Beeldmateriaal dat als doel heeft om Dolly's boodschap 'Laat liefde regeren' te verbeelden, uit te dragen, te versterken en te onderstrepen. Zoals Dolly altijd zegt: 'Homo, hetero, lesbisch, transgender of (b)i? We are family. Let's celebrate diversity!'
Dolly Bellefleur is niet alleen in Amsterdam maar in heel Nederland een boegbeeld voor de LHBT+ gemeenschap. Voor haar belangrijke werk werd ze o.a. door COC Nederland onderscheiden met de Bob Angelo Penning. Naast de strijd voor acceptatie van LHBT+ rechten zet activist en artiest Bellefleur zich onvermoeibaar in voor culturele diversiteit en minderheden. De expositie vormt de basis van een negen weken durend feest van diversiteit, tolerantie en kansengelijkheid.