'Vitruvian Man 2019', 50×40 cm, pencil on paper.
Contribution by Elisa Pesapane for the 'Leonardo & Beyond. Perspectives on the Renaissance Man' conference on June 15th in Leiden.

In honor of the 500th year of Leonardo da Vinci's death, the journal "Incontri. Rivista europea di studi italiani", the Werkgroep Italië Studies (WIS) and Leiden University Centre for the Arts in Society (LUCAS) organize a conference day about Leonardo da Vinci and the 'uomo universale'.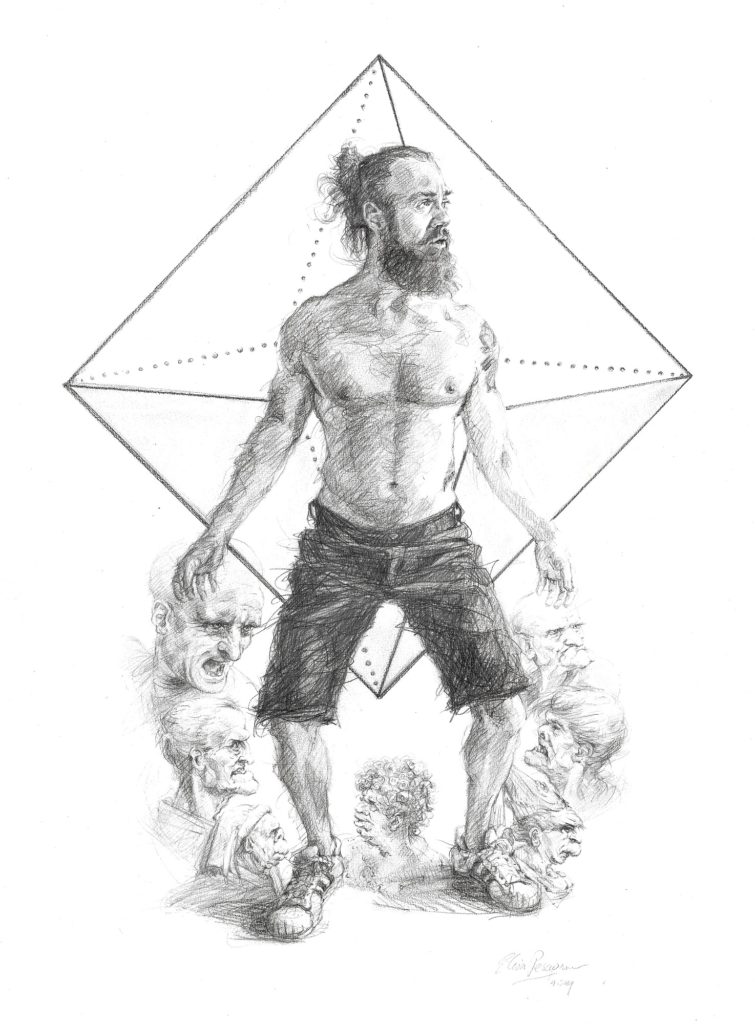 Speakers:
– Christopher Tyler (City University of London): Young Leonardo: his Development as the Universal Man
-Dirk Huylebrouck, Rinus Roelofs (KU Leuven) and Emma Grootveld (Leiden University): Luca Pacioli's Divine Proportion: a human creation
– Cristiano Amendola (Université de Liège): Leonardo e la letteratura , La facezia: forma popolareggiante o raffinato genere umanistico? Riflessioni intorno alla produzione letteraria "minore" di Leonardo
– Tancredi Artico (Università di Padova): Una cosa non tanto mentale: opere di ingegneria e suggestioni leonardiane nell'epica tra cinque e seicento
– Eva Rovers (independent scholar): The World according to Buckminster Fuller. How the ideas of a "20thcentury Leonardo" may solve 21st-century problem
– Rob Zwijnenberg (Leiden University): Leonardo and an uncontrollable world. Why Leonardo's way of thinking can help us to come to terms with our world
– Rosi Braidotti (Utrecht University): Beyond the Renaissance "Man"
– Event image 'Leonardo & Beyond': Elisa Pesapane, 'Vitruvian Man 2019', 50×40 cm, pencil on paper
Big up for my friend & colleague Emma Grootveld for putting together this interesting program!