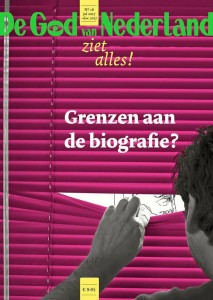 Bijdrage over 'De Prins der dichters'Adriaan Roland Holst (biografie door Jan van der Vegt, 2000) door Elisa Pesapane voor #16 van literair-satirisch magazine De God van Nederland.
(Drawing on the dutch 'Prince of poets' Adriaan Roland Holst for #16 of literary-satirical magazine De God van Nederland.)
Thema van deze editie is 'Genzen aan de biografie?'
Met onder andere: Hoe ver kan een biograaf gaan? Hoe ver mag een biograaf gaan? Hoe ver moet een biograaf gaan? Ging Koen Hilberdink over de grens in zijn biografie van Johan Polak? Ja! Ging Geke van der Wal over de grens in haar biografie van Rob van Gennep? Nee!
Zeven biografen aan het woord: Joep Bremmers (Simon Vinkenoog), Igor Cornelissen (Mathilde Visser), Elsbeth Etty (Willem Wilmink), Henk van Gelder (Adèle Bloemendaal), Mirjam van Hengel (Remco Campert), Marjo van Soest (Emmy van Lokhorst), Aleid Truijens (Hella S. Haasse). En… Lieneke Frerichs over haar werk aan de biografie van Nescio.
Frederik van der Kamp maakt de stand op van de Nederlandstalige biografieën en telt de PPJ: het aantal Pagina's Per Jaar in een biografie. Léon Hanssen wint de Zwammaardoor-bokaal 2017! C.J. Aarts bespreekt alle Elsschotbiografieën, Dirk Baartse over de beste kunstbiografieën.
En natuurlijk… De Grote Willem Otterspeer Quiz!
Bijdragen verder van o.a. Yolanda Huntelaar, Nicolien Mizee, Bob Polak, Huug Schipper en Piet Schreuders. Tekeningen van Dirk Baartse, Wilma de Bock, Rob van Hemert, Frits Jonker, Lies Kindt, Jeroen van Merwijk, Elisa Pesapane, Barbara Stok en Frits Marnix Woudstra. Foto's van Ferry André de la Porte en Maureen Bachaus. En nog veel meer.